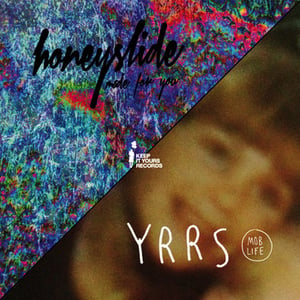 €

5.00
honeyslide /// YRRS split 7''
A side - honeyslide - Made For You
AA side - YRRS - Mob Life
LISTEN HERE!
Limited to 300 copies
Fuzzbook - Both tracks are right up our alley and probably if you're reading this, they are right up yours too. On their bandcamp Keep It Yours claim that 'London is back' and if Italians say it, it must be true.
Basement Fever - The noisy guitar/drums two-piece YRRS from New Milton/Christchurch (who knows... somewhere on the south coast of England) are back with 'Mob Life', another driving, distorted pop effort that grips you (well, it gripped me) from the off. They're a really good live band and the drummer is 17 years old. The drummer is 17 years old. It seemed worth mentioning twice.
Sexbeat - The subdued beginning of fragile vocals are kicked out of the way as heavy squelching guitars thrust forward in the meaty chorus sections (honeyslide).