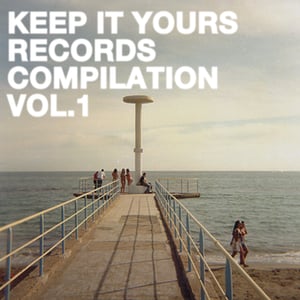 €

10.00
12'' Compilation - White vinyl (KIY 003)
1. We Are Trees - Sunrise Sunset
2. Tashaki Miyaki - Somethin Is Better Than Nothin
3. Teen Daze - Let's fall asleep together
4. Triptides - Venus Is Cruel
5. French Films - Golden Sea
6. Keep Shelly In Athens - In Love With Dusk
7. His Clancyness - Freight Trains
8. Porcelain Raft - Tip Of Yr Tongue
9. Casa Del Mirto - The Haste
10. Death In Plains - Porn On TV
listenbeforeyoubuy.net - It's definitely worth 35 minutes of your time.
The comp has a light and breezy feel to it and might just be the perfect companion to a day spent at the beach as the weather gets warmer, and if nothing else the cover art should get you feeling summery and all happy inside.
The Pigeon Post - Keep It Yours Records come out of Rome, but have managed to piece together a 10 track 12″ record that defies such geographical boundaries, taking in America from coast to coast before hopping over the Europe and cherry-picking the best of it's produce to commit to vinyl [...] A good compilation should make a statement – and this one certainly does, though it's hidden somewhere deep beneath the reverb. Whatever they're trying to say, it's pretty exciting.
letsgethey.de - Ich überlege gerade, wann ich die letzte compilation gehört habe und die dann auch noch von vorne bis hinten gut fand (kommt ja nicht so häufig vor).
Limited to 150 copies in the world